J.A.M.M.A.
What is a JAMMA cabinet anyway?

JAMMA (Japanese Amusement Machine Manufacturers Association) is a wiring standard which was developed in the 1980's to standardize wiring of cabinets to game logic boards. A JAMMA cabinet has a 28+28 way edge connector for connection to a game board pre-wired to controls, monitor etc.s.
The Japanese Amusement Machine Manufacturers Association set about making a unified board connection standard. This would alleviate the silliness of rewiring a cab for every new game board installed. Now almost every game produced that didn't involve a deluxe cabinet (ie AfterBurner or Virtua Racing) comes with a JAMMA connector. What this means to you is that any JAMMA game can be shoved into a cabinet which previously held any other JAMMA game.
There are only five things to connect to the game board through the wiring harness. The Player 1 and Player 2 controls, the monitor output, power supply input and the coin-door's switches. The diagram below shows the most common connector and how these connections are made to the game board. Many games use a different pinout, and some have differing styles of connection and can also have more than one connector.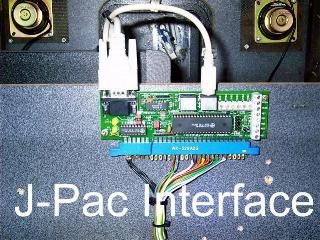 J-PAC and jamma loom inside cab A Jamma loom and J-Pac interface

Jamma plug - Connection diagram
| SOLDER SIDE | # | # | PARTS SIDE |
| --- | --- | --- | --- |
| GND | A | 1 | GND |
| GND | B | 2 | GND |
| +5V | C | 3 | +5V |
| +5V | D | 4 | +5V |
| -5V | E | 5 | -5V |
| +12V | F | 6 | +12V |
| Key, no pin | H | 7 | Key, no pin |
| Coin counter 2 | J | 8 | Coin counter 1 |
| Coin lockout | K | 9 | Coin lockout |
| Loudspeaker (-) | L | 10 | Loudspeaker (+) |
| NC | M | 11 | NC |
| Video analog green | N | 12 | Video analog red |
| Video composite sync | P | 13 | Video analog blue |
| Service switch | R | 14 | Video ground |
| Tilt/Slam | S | 15 | Test |
| Coin B | T | 16 | Coin A |
| Player 2 Start | U | 17 | Player 1 Start |
| Player 2 Up | V | 18 | Player 1 Up |
| Player 2 Down | W | 19 | Player 1 Down |
| Player 2 Left | X | 20 | Player 1 Left |
| Player 2 Right | Y | 21 | Player 1 Right |
| Player 2 Button 1 | Z | 22 | Player 1 Button 1 |
| Player 2 Button 2 | a | 23 | Player 1 Button 2 |
| Player 2 Button 3 | b | 24 | Player 1 Button 3 |
| Player 2 Button 4 | c | 25 | Player 1 Button 4 |
| Player 2 Button 5 | d | 26 | Player 1 Button 5 |
| GND | e | 27 | GND |
| GND | f | 28 | GND |
Take a look on EBAY and see how many cool jamma cabs are for sale for a MAME project :-)