About M.A.M.E
On December 24th, 1996, Nicola Salmoria began working on his single hardware emulators (for example Multi-Pac), which he merged into one program during January 1997. He named the accomplishment by the name of Multiple Arcade Machine Emulator, or MAME for short (pronounced as the word 'maim' in English, other languages may differ)
The first official release was MAME 0.1, which was released on the evening of February 5th, 1997 (23:32 +0100). Using a modular and portable driver oriented architecture with an open source philosophy, it soon grew into immense proportions. The current version supports 5600 ROM sets.. Because MAME releases happen whenever they are ready, at one point the wait between new versions was almost 4 months. To help the agony of the users, a public beta system was used, with a beta release happening every 2-3 weeks on an average. However, now the beta designation has been removed in favor of a good old 0.xx version number. Also a work-in-progress -page exists, if you really want to know the latest information.
Even though MAME allows people to enjoy the long-lost arcade games and even some newer ones, the main purpose of the project is to document the hardware (and software) of the arcade games. There are already many dead arcade boards, whose function has been brought to life in MAME. Being able to play the games is just a nice side-effect. The huge success of MAME would not be possible without the talent of the programmers who joined to form the MAME team. At the moment, there are about 100 people on the team, but there is a large number of contributors outside the team too. Nicola Salmoria is still the coordinator of the project.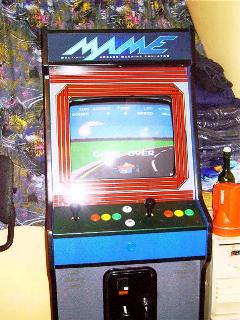 MAME Website
---
About ArcadeOS
Visit PC2JAMMA The official ArcadeOS site
ArcadeOS runs off text based config files, which describe:-
the applications it frontends,
which items can be configured for those applications
and (optionally) how you want the keys remapped for the applications
This allows it to support most DOS applications, currently there are .APP files for
MAME,Callus,System16,Raine,Rage
BRSMS,ColEM,KGen98,GENECYST,MGX,Magic Engine,NESTICLE,RockNES,SP,Z26 and ZSNES.
The documentation supplied with ArcadeOS fully describes how .APP files can be written
to extend ArcadeOS to front end other applications
Some of ArcadeOS Features are as follows:-

.Can output video directly to an arcade monitor
.Can be orientated vertically or horizontally
.upto 30 emulators
.6000 games per emulator
.7 custom lists per emulator
.Can now filter ROMs by folder location
.Filter per custom list
.Mouse and Joystick support
.Real DOS GUI (not a CUI)
.Uses screen shots as backdrops
.Built in file manager
.Sound support
.Can support most emulators/apps
.Support for most Serial and Parallel LCD/VFD displays
.Support for both -listinfo and -listxml
ArcadeOS Can display game snap shots with menu list or just snap shots and game name